CLOSED MONDAYS
Thank you for the huge outpouring of support!
ORDER ONLINE HERE THROUGH OUR NEW SYSTEM HERE.  (TAKE OUT ONLY)
OUR NEW HOURS FOR TAKE OUT  ORDERS ARE:
TUESDAY - THURSDAY 3PM TO 9PM
FRIDAY & SATURDAY 12PM TO 9PM
SUNDAY 12PM TO 8PM
CALL US AT 301-464-8800 TO PLACE YOUR ORDERS.
CORNER OF CHESTNUT AVE & 11TH ST
8604 CHESTNUT AVENUE
BOWIE, MD 20715
If you prefer, UberEats and Doordash apps are also available, but their delivery times are very long due to the increased demand. Please help support all of our local, small businesses during this difficult time!
Sa
Thanks again for your support!
Your Friends at the Old Bowie Town Grille
Toys For Tots | Saturday 12/4/2021
Wednesday Night Classic Jam
 —  —
Hosted by our very own Low Rent Quartet, come on out and play!
Toys4Tots with Live Music by the Rockits!
 —  —
Live music with the Rockits, 6-9 PM!
CORNER OF CHESTNUT AVE & 11TH ST
8604 CHESTNUT AVENUE
BOWIE, MD 20715
To Place A Carry Out OR Delivery Order, Please Call 301-464-8800
HOME & OFFICE DELIVERY NOW AVAILABLE BY THE OLD BOWIE TOWN GRILLE, UBER EATS & DOORDASH!

We are pleased to announce that the Old Bowie Town Grille was selected Winner of the 2019 Bowie Blade-News Reader's Choice for: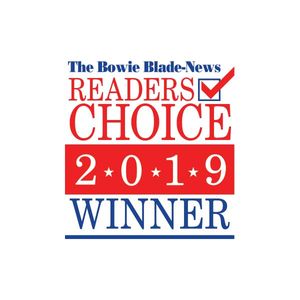 BEST BAR, BEST ROOFTOP BAR, BEST BURGER, BEST DINNER UNDER $10, BEST DRAFT BEER SELECTION, BEST FAMILY RESTAURANT, BEST HAPPY HOUR, BEST LIVE MUSIC VENUE, BEST LOCALLY OWNED RESTAURANT and BEST WAITSTAFF!